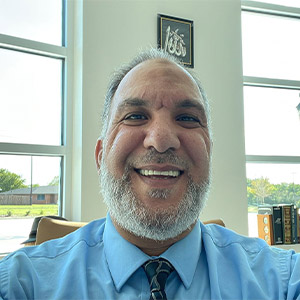 Dr. Jehad Matariyeh joined the DHOPCC in July of 2022 and serves as the Executive Director. He was born and raised in Chicago where he started out his career in teaching in 1992; first as a substitute teacher and then becoming a full-time teacher. He taught students in grades 8-12 American History, American Government and Sociology for 12 years. For many years he was an Adjunct Professor at a community college where he taught undergraduate students Political Science and American History courses; he also taught educational courses at the graduate level to students pursuing their doctoral degree. Dr. Jehad has also served proudly for 13 years as an administrator: first as Dean of Students and then Principal of a Middle and High School.
Dr. Matariyeh earned a Ph.D. in School Leadership and Educational Administration; an M.A. in Political & Justice Studies; B.A. in Political Studies; and an A.A. Degree in Liberal Arts & Sciences. He has been married since 2003 and has four children.
Dr. Matariyeh has served on multiple school and religious boards and committees in Illinois as well as educational accreditation organizations for Cognia and was a member of the Universities Superintendents Stakeholders Committee. Early on in his academic career, he was appointed as Chairman of the Illinois Community College Board's Advisory Committee and also served for one year as a member of the Illinois Board of Higher Educations Advisory Board. He has earned community service awards and other leadership accolades. From 2013-2019 (prior to his move to Dallas) he served as Secretary of the Board of Directors of the Mosque Foundation of Bridgeview, IL.